Life on the move.



I recently attended the Pursuit of Excellence conference in Manukau and there were some incredible things preached at some
of the sessions which I found totally revamped the way I live life.

One of these was a message preached by an English pastor Paul Scanlon.

He preached about the Will of God, which is always a controversial topic to many believers in the modern world. He used the scripture in Proverbs 20:24:
"A man's steps are directed by the LORD."


IMPORTANT:
It's not the

intentions of a step

, it's not the

plans of taking a step

; but its the
STEPS

which God directs.
So many times I know I get frustrated not kno
wing the next step or even knowing the direction in which God wants me to take. I realised the majority of these times I'm actually just sitting around waiting for God to put everything in place perfectly for me without having to step out abit.

It's like I'm asking God to drop some incredible vision into my lap, have some guy to immediately walk up to me and offer me a full time, paid leadership position or all the red cars on the right hand side of the road to all line up facing the direction to confirm its a sign from God before I do something.

"God uses people in motion."


- What things are you wishing were different?
- What steps are you taking to allow God to use you more?
- What are the things you've struggled with holding you back from fullness of
life, taking a risk or from obeying God?


"If nobody in your church or your city is in motion, then sometimes God will even resort to using unsaved people to see his will accomplished."



We need to be

doing

something for God.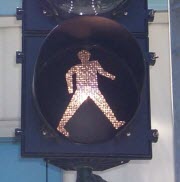 Paul Scanlon refers to the two different opinions on the will of God as being the two

"Schools of Devine Guidance"

.



The first school of devine guidance has their mission statement as:



1.

I don't move

until I recieve God's guidance.




The second school of devine guidance says:



2. I don't expect God's guidance

until I move

.


These are two very subtle differences but two very life altering thought processes. Many times personally I've slipped into the first 'school' and just waited around for God tell me exactly where to go. I've found its only as you're taking intentional steps in different areas of life that I hear God clearly say where to go.

Please understand, I'm not saying for example, that if you're unsure about drugs, go ahead and try it and let God direct you afterwards. I'm getting at a hinderance in our personal growth - both in our relationship with God, in our effectiveness in ministry, and in receiving even more of the fulfilling life God has for us.

"The reason churches flourish are not because of their location, colour of their lights or carpet. The reason churches are growing rapidly compared to ones just down the road is the first one is doing something and the second is praying or thinking about doing something."



The challenge is to constantly be stepping out in faith, believing God to come through and to direct.



If you're unsure of where God is leading you, take a step using wisdom, and expect God to come through for you.

Common. Step out.



Do what you've wanted

to see happen for such a long time. Step out.



Be

the answer

to the frustration you've felt. Step out.


Let your life become one that's in movement

- in motion,

taking steps that God can then use

to direct you towards

ALL

the things He's planned for you.